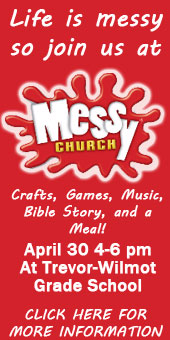 Life can be messy, so why shouldn't church be messy, too?  If wooden pews, hymns, and sitting still and quiet aren't your thing, Messy Church might be just what you're looking for.
Messy Church is sponsored by Living Waters Ministries in conjunction with United Methodist churches in Kenosha County.  It's cross-generational, very informal, and everyone is welcome to attend.  It is a monthly opportunity for people to gather and enjoy fellowship as they do crafts, play games, and enjoy a communal meal—all in celebration of a simple theme.
Join others at Trevor-Wilmot School, 26325 Wilmot Rd, Trevor, from 4 to 6 p.m. on Sunday, April 30 for a hands-on faith, fellowship and fun-for-everyone experience. And don't dress up … this is Messy Church!
If you are interested in more information, please contact Rachel Hewitt at queenrachel58@gmail.com.