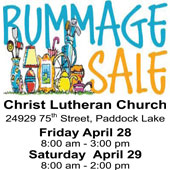 Note: Christ Lutheran Church is advertising this event with westofthei.com. This is a paid announcement. — DH
Christ Lutheran Church's Annual Rummage Sale of new or used furniture, miscellaneous household items, home maintenance tools and implements, sports equipment, clothing etc. will happen on Friday, April 28 from 8 a.m. to 3 p.m. and Saturday April 29 from 8 a.m. to 2 p.m.
All are invited to come and find a bargain.
Christ Lutheran Church is a congregation of the ELCA.  The church holds worship weekly on Sunday mornings starting at 9 a.m. During the School year there is Sunday school starting at 10:15 a.m. Summer worship is also on Wednesdays starting at 6:30 p.m., beginning on June 1.
Some of the many activities that are held throughout the year include:  Bingo on the second Thursday of the month, Church Picnic and Pork Roast on July 15, Fish Boil held in October, Fall Craft Fair.