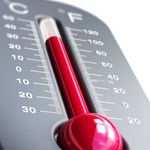 Tuesday should be another of the warm days we've come to expect over the last few days, but after that it's back to reality
The National Weather Service forecast says we should reach a high of 70 Tuesday. It will be breezy too, with winds as high as 30 mph.
Temperatures will then cool off for the balance of the week and weekend, with highs in the 50s and lows in the 30s and 40s.
There's a 40 percent chance of showers Tuesday might, a 30-50 percent chance of showers Wednesday and a 70 percent chance of showers Wednesday night. A 20 percent chance of more rain will persist into Thursday.