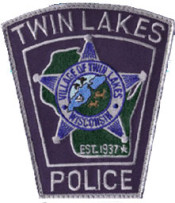 The Twin Lakes Village Board approved the purchase of a new patrol vehicle for the Police Department at its regular monthly meeting Monday night.
The 2017 Ford Interceptor Utility SUV with all added equipment needed to serve as a patrol vehicle will cost $34,912. The village will be able to apply an insurance settlement of $15,000 for a squad car totaled last year to bring the net cost to $19,912.
The village will pay for the vehicle out of contingency funds in the 2017 budget, said village administrator Jennifer Frederick.
The purchase was approved unanimously with President Howard Skinner and Trustees Aaron Karow and Tom Connolly absent.
Police Chief Adam Grosz said he recommended the SUV over a sedan because departments are finding they are more versatile, with better handling in snow, more room for equipment and better resale value.
"Departments are reporting that they are very reliable for patrol," Grosz said.
The SUV cost about $3,000 more than the 2017 Ford Interceptor sedan.
The village will purchase the vehicle from Ewald Chevrolet, which should help speed up delivery since that dealer has some Interceptor Utility SUVs on hand ready for finishing off, Grosz said.
Frederick said a typical village police department patrol vehicle logs about 35,000 miles a year.