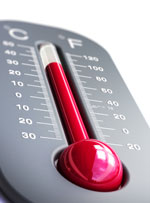 The National Weather Service is forecasting a very warm Easter weekend.
Saturday's high is forecast for 80. Sunday's high is forecast for 69.
Between those two points in time, there may be some stormy weather. There's a 70 percent chance of a thunderstorm developing Saturday night, most likely between 9 p.m. and 3 a.m., Sunday.
Do you have Monday off too? That looks pleasant as well, with mostly sunny skies and a high in the mid 60s.