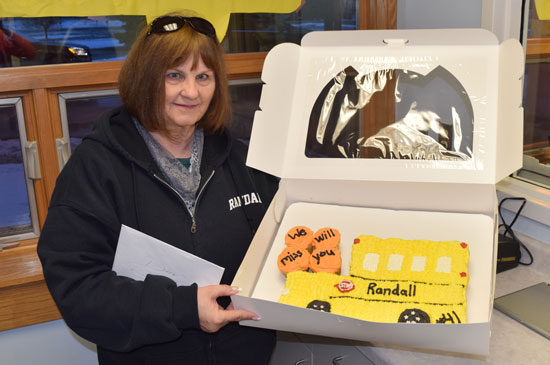 Forty-two years is a long time working in any profession, but 42 years driving a bus full of kids several times a day takes a spectacular person.  Donna Lulling would be that person, driving a bus daily for all these years at Randall School.
Lulling decided to hang up her bus keys and retire.  She will still be helping out aiding on the bus for 4K students until the end of the school year.
To celebrate this achievement, staff members greeted her bus cheering as she arrived at school on her last day. Students unloaded and took a group photo with her, allowing them time to say a proper goodbye.  The 4-year-old kindergarten students made hand-print flowers to tell her thank you for keeping them safe. Laurel Tenhagen's kindergarten through 5th grade art classes drew pictures of themselves and placed them on many paper buses which were hung all over the lobby.