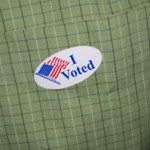 It's Spring Election Day today with non-partisan municipal, school and judicial offices on the ballot. At the state level, there is a contested election for state superintendent of schools.
Polls are open from 7 a.m. to 8 p.m.
Voting in Twin Lakes will be at Village Hall. Salem Lakes will be using all three polling places: Salem Town Hall, Wilmot Fire Station and Silver Lake Village Hall. All other polling places are in their typical locations. A complete list of polling places is available here.
Contested local elections are:
Voters in the Salem School District also will be voting in three-year non reoccurring referendum to exceed the revenue limit.
Note: westofthei.com will be providing results of the races above as soon as they are available tonight. Check back! — DH