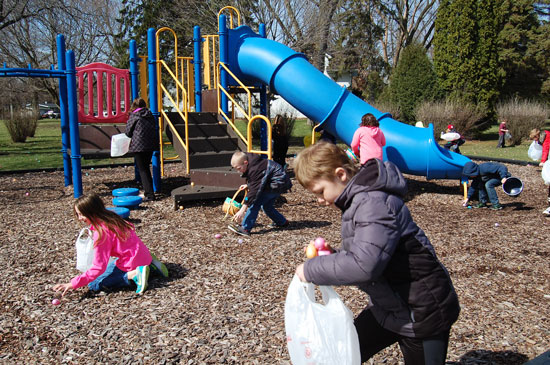 Salem Lakes first annual Easter egg hunt took place Saturday morning.
It may have technically been Salem Lakes first egg hunt, but it was a familiar scene at Schmalfeldt Park in Silver Lake, sight of many a past Silver Lake egg hunt.
The Easter Bunny came over to the park from Fire Station No. 4 in a fire engine. The egg hunt fun began, with youngsters grouped by age scooping up treat-filled plastic eggs.
On April 8, the village will host its first annual Easter Eggstravaganza starting at 1 p.m. at Salem Town Hall in Salem. The Eggstravaganza will feature kids crafts, coloring contest and pictures with the Easter bunny — bring your own camera. Salem Town Hall is located at 9814 Antioch Road, Salem.
Here are some more photos from Saturday's event: