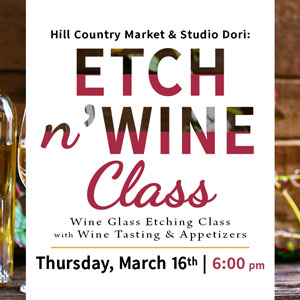 Note: Hill Country Market is a westofthei.com sponsor. This is a paid announcement. — DH
Hill Country Market is hosting a Etch N'Wine Class on March 16, at 6 p.m.
Sign up today and enjoy a glass etching class and a wine tasting paired with delicious appetizers. It's an event you won't want to miss! Grab some friends and enjoy a great evening out at HCM. The glass etching class will be taught by local artist, Studio Dori.
Event is $55/person. Sign up with a friend and receive $5 off both your tickets!
Please pre-register for this event by calling 262-537-4867 to sign up before March 16. Must be 21 or older to sign up/attend.
Visit Studio Dori's page: https://www.facebook.com/studiodoripumpkinwild/
And no experience is necessary!
Learn different techniques with glass etching. Using Dremel tools and etching creams, to create proud pieces that will initiate great gifts ideas, and an addiction to experience more. Included in your price, will be a comfortable, casual setting, a variety of glass to choose from, and all supplies and materials needed for your creative experience.
If you have your own Dremel, you're more than welcome to bring it; also bring your phones, you'll want to share this, too!
Extra pieces of glass are available for $10 each, should you want to etch a 2nd piece of glass or have time to.