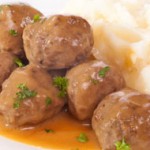 Salem United Methodist Church's annual Smorgasbord dinner is Sunday, March 5 from noon to to 5 p.m.
Ticket prices are $10 at the door for Adults (14 and up) and $9 for Children and Seniors. Children under 3 are free. For that price, you will get roast beef, chicken, and famous meatballs, potatoes, vegetables and salad bar, plus dessert and coffee. Take out meals will be available for the same price.
The church is located at 25130 85th St. in Salem and is fully handicap accessible. In addition to the meal, there will be a silent auction.