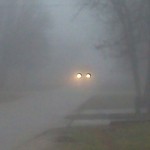 The National Weather Service has issued a dense fog advisory for an area that includes Western Kenosha County.
The advisory is in effect until 9 a.m.
Visibility may be reduced to less than a quarter mile during this period.
If you are traveling out of the immediate area, this fog is not just a local condition. Most of southern Wisconsin and about the top two-thirds of Illinois are under the same advisory.
The high temperature should still be quite warm Wednesday at 69, if not quite as warm as forecast earlier in the week.