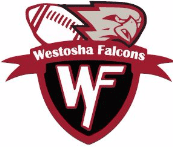 The Westosha Falcons Youth Football (WFYF) feeder football program invites local youth in 3rd through 8th grades (current grades 2nd-7th) to join this 100 percent all-play football league for the 2017 season.
The WFYF league is Heads-Up Tackling Certified and develops positive athletes and young people both on and off the field. This program has a focus on safety, 100 percent play, positive coaching, fundamentals, sportsmanship, and academics.
Season conditioning will be held Aug. 1-4, with practices beginning on Aug. 7 . All league games are played on Saturdays beginning after Labor Day.
Early bird pricing is $175 until April 1 and $200 after that date, with a $25 registration discount per sibling.
New player referral discount is available. Players may also register for summer camp ($40 fee) to be held July 10-13 at Central High School.
The WFYF Open house will take place Saturday, Feb. 18, from 9 a.m. to 3 p.m. at the Central High School cafeteria.
WFYF in person registration dates are: March 8 and 22, 5-7 p.m., Westosha Central High School lobby.
Contact WFYF at 262-287-7410 for additional information.