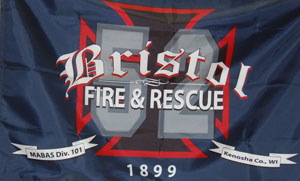 A home damaged in a fire late Friday night should be habitable after salvage and restoration work, according to Bristol Fire Department officials.
From a media release on the incident issued Monday:
At approximately, 11:28 PM on Friday, February 10th, the Bristol Fire Department and automatic aid companies from the Antioch Fire Department, the Newport Township Fire Protection District and Pleasant Prairie Fire & Rescue were dispatched to 12120 187th Avenue in Bristol for a reported basement fire with observed smoke and flames. Upon arrival, the crew of Bristol Quint 5231 verified that all occupants had been evacuated from the residence before quickly completing a walk-around assessment of the structure and initiating a rapid fire attack with support from the arriving Antioch, Newport and Pleasant Prairie units. The crew of Quint 5231 encountered sounding smoke alarms and light to moderate smoke before locating the fire in a basement bathroom. A MABAS Box Alarm was concurrently activated to ensure adequate water supply and manpower, bringing in additional mutual aid companies from Town of Salem Fire & Rescue, Town of Paris Fire & Rescue, Kenosha Fire Department, Somers Fire & Rescue, Kansasville Fire Department, Union Grove-Yorkville Fire Department, Lake Villa Fire Protection District and the Racine Fire Bells. The crew of 5231 was able to make a quick knockdown on the fire utilizing less than 300 gallons of water and noted minimal extension to areas surrounding the basement bathroom. On-scene fire crews completed overhaul of the affected areas of the residence and cleared the scene at approximately 2:35 AM, Saturday, February 11th. One of the home's occupants was treated for smoke inhalation on-scene but was not transported; no other injuries to occupants or fire crews were sustained. The home is anticipated to be habitable after salvage and restoration, and the cause of the fire is currently under the investigation by the Kenosha County Fire Investigation Task Force.
The fire department also issued this statement about the importance of smoke alarms, as illustrated by this incident:
The Bristol Fire Department would like to reinforce the significance of maintaining functional smoke alarms in the home, and to consider the possibility of residential sprinkler systems. Regular testing and maintenance of smoke alarms dramatically increases the probability of early warning to a home's occupants, thus allowing for a safe and timely evacuation of occupants. The installation of residential sprinkler systems can further improve survivability of fire in the home, and can mitigate the impact of damage sustained by quickly suppressing a fire prior to the fire department's arrival. If you do not have working smoke alarms in your home, or need assistance in testing them, please contact the Bristol Fire Department's non-emergency number at 857-2711.
Related posts