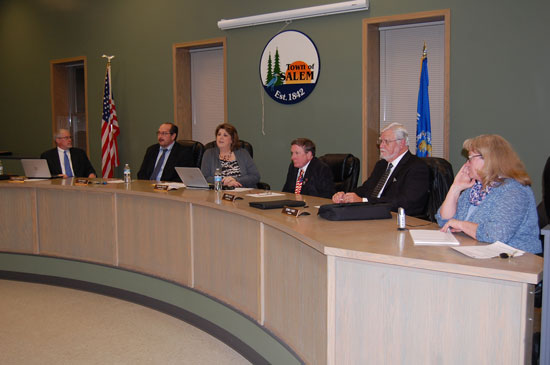 The Salem Town Board held its last meeting Monday night drawing to a close a 175 year history that is older than the state itself.
As of midnight Tuesday, Salem and Silver Lake will be officially merged into the new village of Salem Lakes.
"It took a shared vision … to bring us to this day, a great day," said Chairman Diann Tesar. "a day that shows that local government can be creative, nimble and responsive to its citizens and these challenging times … I'm optimistic about this endeavor. It's a positive move for both Salem and Silver Lake."
Here's video of the final adjournment of the meeting:

Nearly 50 audience members attended, requiring a last minute adding of chairs. But only a few residents spoke during citizens comments.
Former town Chairman Shirley Boening summarized the mixed feelings many seemed to have.
"It's a sad day," Boening said. "I think it's going to work out well."
Circuit Court Judge Jodi Meier also spoke, remembering days gone by in Salem and the love of her father, former longtime town Supervisor Joe Meier, for the Salem community. Joe Meier died while still in office in 2011.
"It's no secret that my dad Joe Meier loved the town of Salem," Jodie Meier said. "He lived here, he taught here, he raised a family here. He loved Salem so much that he became a supervisor."
Each Town Board member also made comments about the historical day at the end of the meeting. Here's video of those comments:

Silver Lake officials in attendance were President Bruce Nopenz and Trustees Doug Randolph, Laura Francart and Patrick Dunn.
The board approved several items of routine business and deferred several items — including a raze order, purchase of new pick-up trucks for the public safety department and hiring of a new land planner — so they could be considered by the new Salem Lakes Village Board.