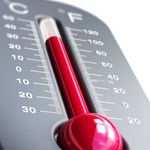 Temperatures are expected to head back up into rather comfortable territory for early February starting Friday.
High temperatures are expected to be in the low 40s Friday through at least Monday, says the latest, local National Weather Service forecast.
On Friday, some of the warm edge might be taken off by winds of 15 to 20 mph with gusts as high as 30 mph.
There is a slight chance of some rain and/or wintry mix late Saturday and Saturday night into early Sunday.