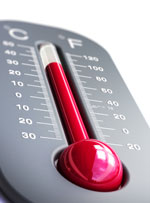 A two-day dip in temperatures starts Wednesday, says the latest, local National Weather Service forecast.
Wednesday's high temperature is expected to reach just 26, a drop of about 12 degrees from Tuesday's high. Thursday is expected to be a bit colder yet, with a high of just 19.
But the cold snap is expected to be short, with high temperatures expected to be back in the 40s by Friday.