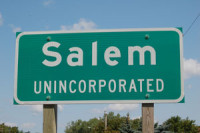 The Salem Town Board is planning to mark its last meeting on Feb. 13 with refreshments afterwards.
The board at a special meeting on Monday discussed how to mark the last meeting in the town's 174-year history. On Feb. 14, Salem's merger with Silver Lake as the new village of Salem Lakes will become official.
"It sounds so sad … but it will be great in the future," said Chairman Diann Tesar.
Town Clerk Cindi Dulaney suggested getting a cake, to which Supervisor Dennis Faber quipped "With 174 candles on it. Better have the fire department here."
Lest anyone think that the board will have no other business on the agenda that night the board already on Monday put several business items on the agenda for the final meeting.