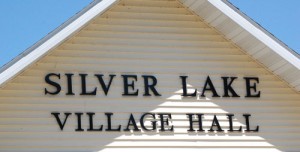 The Silver Lake Village Board on Wednesday tabled the appointment of someone to their vacant trustee seat.
The opening was created by the resignation of Trustee Dan Withers, who cited new out of state job responsibilities as the reason for his resignation. Withers' term expires in April 2018
The board had intended to take letters from people interested in being appointed to fill out Withers term and then consider them and make a decision Wednesday.
But as of the start of the meeting Wednesday only one letter had been received. Village President Bruce Nopenz said he would like to have more people to choose from.
The board will continue to accept letters from people interested in filling the post up to the next regular meeting, Feb. 1
Letters of intent should include two paragraphs stating why the person would like to be a trustee and what their qualifications are to fill the position.
Letters may be submitted in a sealed envelope to the village clerk during normal business hours