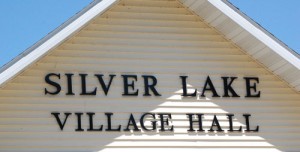 The Silver Lake Village Board took yet another step brought about by its upcoming merger with the town of Salem with the creation of a Police and Fire Commission.
Such a commission is required by state staute for Wisconsin villages with a population of over 5,500. The population of the new combined village of Salem Lakes will be about 15,500.
Police and fire commissions are designed to govern police and fire departments through non-partisan participants.
Appointed at last week's regular Silver Lake Board meeting were: Mike Stark, 1 year term; Tom Robinson, 2 year term; Shirley Boening, 3 year term; Chris Dreyer, 4 year term; Greg Galich, 5 year term. As each member's term expires, the next person re-appointed or appointed will serve a five-year term.