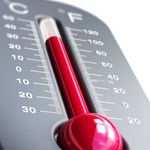 Some warmer temperatures and some snow or rain or a combination are in the latest local National Weather service forecast.
First the temperatures. Monday's high should reach 28, but then it should really warm up with a high Tuesday of 42 and highs in the low 30s for Wednesday and Thursday.
There's a slight chance of snow from 1 to 5 a.m. Monday and a 50 percent chance of snow after 5 p.m. Eventually that snow could become mixed with rain before turning into all rain. Accumulation of whatever falls is expected to be less than one inch. Tuesday there's a 70 percent chance of rain.