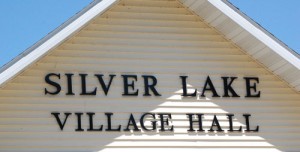 The Silver Lake Village Board has decided to seek letters from residents who would like to be appointed to fill out the remainder of a village trustee's term.
Dan Withers recently resigned his seat due to new out of state work responsibilities. His term expires in April 2018 and the person appointed will serve until then. Salary is $3,000 per year.
Residents of the village of Silver Lake interested in being appointed should submit a letter of interest, says a notice on the village website.  The letter of intent should include two paragraphs stating why the person would like to be a trustee and what their qualifications are to fill the position.
Letters may be submitted in a sealed envelope to the village clerk during normal business hours and no later than 2 p.m. on Wednesday, Jan. 18. If you are unable to submit your letter in person, you are asked to use the secure lock box at the front of the Village Hall.
The letters will be reviewed by the Village Board in closed session at the regular board meeting on Jan. 18.