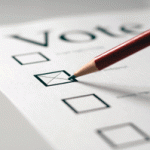 Randall voters again will see a rematch for town chairman in the 2017 spring election.
As of the deadline for filing candidacy papers Tuesday, incumbent Robert Stoll and challenger Philip Johnson had both returned papers.
This will be the third consecutive election in which Stoll and Johnson will face off against each other. Stoll defeated Johnson in 2013 by 236-105 (131 votes) and by 239-221 (18 votes) in 2015.
All other town offices had only the incumbents file for candidacy: Supervisor #1 Lauren Fox, Supervisor #3 Randy Kaskin, Municipal Judge Charles Gitzinger.
The spring election will be April 4.