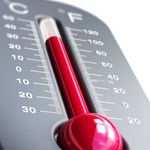 Christmas Day appears set to be wet and warm, says the latest, local National Weather service forecast.
The high temperature Sunday should reach 42. A chance of rain develops in the afternoon and is a virtual certainty by midnight. Wind will be increasing through the day, reaching steady winds of 15 to 20 mph in the afternoon, with gusts as high as 30 mph.
Monday is set to be warm too, with a forecast high of 43.