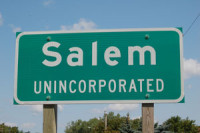 The Salem Town Board Monday passed a property tax levy with a 1.69 percent increase.
The levy in 2016 was $3,797,670 while the approved 2017 levy will be $3,861,700. That's an increase of $64,030  — $10,518 for the library (an amount the town does not control but levies for), $53,504 for the general fund and $8 for debt service.
What effect this might have on an individual's town portion of their tax bill would depend on if there was a change in the property's assessment.
Last year, the town passed a tax levy that was .79 percent higher than the year before.