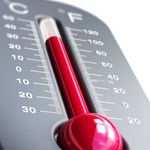 Thursday and Friday look to continue to be unseasonably warm, before temps take a dip into cold territory this weekend, says the latest, local National Weather Service forecast.
Friday night and Saturday, there might even be some snow.
Thursday's high temperature could reach 69 and Friday's 65, but temperatures are also expected to start diving Friday afternoon. Saturday's high is expected to reach just 39 and Sunday's just 38. There also will be a 30 percent chance of rain/snow Friday night into Saturday.