Central High School held its annual Veteran's Day observance Friday afternoon.
Veteran's Outreach of Wisconsin, who has a partnership with American Legion Post 21, asked if the students would like to help. The students had a food drive. David Suminski from VFW Post 7308 received the donation on behalf of the group. It was presented by the officers of the Global Awareness Club, Rene Essary, Bella Tondi. Will Cushman, and Caileigh McFeters.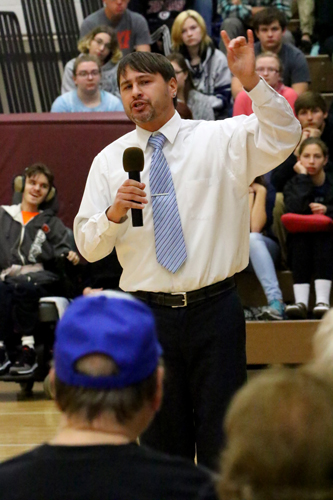 Central's featured speaker was Chris Annis. He'a a father, husband, direct descendant of the Mohican Nation, author, and United States Marine Corps Veteran. While serving in the Marines, Chris was an Aviation Operation Specialist, martial arts instructor, drill instructor, and a door gunner in a Sikorsky CH-53E Super Stallion helicopter. Chris deployed to Iraq three times and Afghanistan, once.  In November 2016, Chris accepted a job at the University of Wisconsin-Oshkosh as the Diversity and Inclusivity Adviser and is attending Marian University for his PhD in Leadership Studies.
Taps was performed by Devin Roenfanz.
Here is some video from the ceremony: