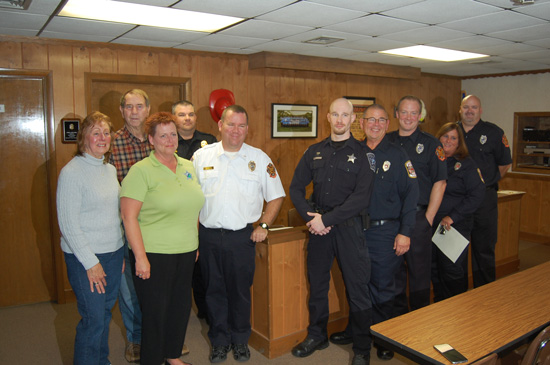 Members of Twin Lakes Fire and Rescue on Tuesday gathered to celebrate the saving of a life.
On Sept. 20, members of the department responded to a call of a patient with no pulse and not breathing, said emergency medical services Chief Tom Smith. But CPR and defibrillator shocks administered first by a responding village police officer and then a Twin Lakes Rescue crew and eventually paramedics from the Richmond Fire Department were successful in reviving patient Thomas Gaynor during the ambulance ride to a Milwaukee hospital.
"The stars just aligned," said Smith, who was one of the people on the call. "Everyone did a great job … there was a lot of teamwork."
The save was celebrated in a ceremony at the Twin Lakes Fire Station. Smith told the story of the call and handed out certificates and save pins.
Gaynor was present too and expressed his thanks for the diligent work of the rescue and police personnel.
"Basically I am a Brewers fan, but I'm glad I lived long enough to see the Cubs win (the World Series)," Gaynor said.
Recognized for their part in the call were:
Twin Lakes PD — Officer Danny Gavahan and Dispatcher Bridget Krupp.
Twin Lakes Rescue — AEMT Lt. Ken Johnson, AEMT Samantha Tietz, Paramedic Ron Redlin, EMT Matthew Gall and AEMT EMS Chief Tom Smith.
Richmond Fire Dept. — Paramedic Damien Amore, Paramedic Donald Raef (not present at the presentation) and EMT-B Janice McAndrews.
Here is some video of Smith telling the story of the call and presenting the certificates and pins: