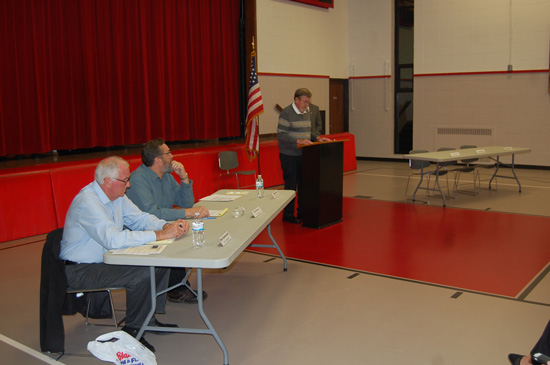 The Paris Town Board recall election debate took place Thursday evening at Paris School.
As expected, the three incumbent Paris Town Board members — Virgil Gentz, Ron Kammerzelt and Ken Monson — attended and participated and the three challengers — Joseph Kolnik, Robert Fliess and Paul Terry — did not.
About 30 audience members attended.
The debate was organized by Kammerzelt. Ben Harbach, a former Somers elected official, served as the moderator.
The challengers declined to attend, citing what they called the board's secrecy in dealing with the formulation of an intergovernmental agreement with Somers regarding development along the I-94 corridor and establishing a permanent border for Paris. Objections to the IGA are what prompted Kolnik, Fliess and Terry to petition successfully for the recall election. The challengers also objected to the date, time and place for the debate being set without consulting all candidates.
Issues of intergovernmental/boundary agreements with Somers and Kenosha dominated the questions, which were submitted by audience members. The debate continued for nearly two hours.
Here is video of the opening statements:

Here is video of the answers to the first question, which dealt with why was it necessary to include Somers in the intergovernmental agreements and why couldn't Paris just keep all of the development revenue from the I-94 corridor north of Highway 142:

While they did not attend or participate in the debate, the recall challengers did this week issue (via Facebook) a joint call for the incumbent board members to resign.
From the challengers statement:
They have admitted that $1.25m of funds should not be given to Somers as part of an intergovernmental agreement, and that Somers should pay their own legal bills. The dramatic U-turn was revealed while a Freedom of Information request submitted by Citizens for Responsible Government uncovered their legal bills. Documents obtained from the Town of Paris show a catalog of legal expenses charged to the taxpayer in order to block democratic efforts to get a recall election and referendum petition."
The recall election will take place Nov. 22.