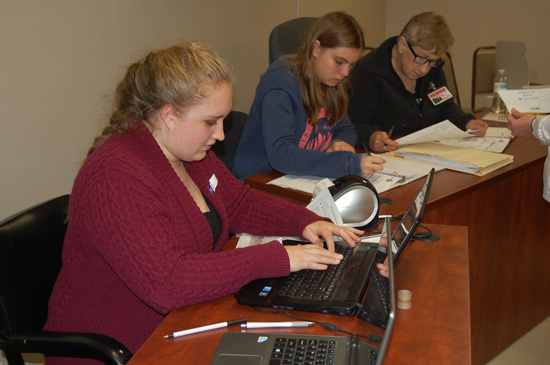 Eighteen Central High School students got a first hand look at how the election process works Tuesday when they assisted poll workers in Paddock Lake and Twin Lakes.
The project started with an idea Paddock Lake village Deputy Clerk Michelle Shramek heard about at clerk training in Green Bay. She mentioned it to Clerk Emily Uhlenhake they decided to pursue it for the fall election.
The students needed to have a 3.0 grade point average, be 16 or older and have an authorization to serve as an election inspector form signed by a parent and the school principal. Shramek and Uhlenhake contacted Central Social Studies Department head Tom Lampe.
"Dan Bender (the other government teacher) and I asked students enrolled in our Advanced Placement American Government classes if they would be willing to work," Lampe said. "We had 30 students show interest and of that group we selected 18 to work. "
The students came in the week before the election for about an hour of training.  They worked with another election official on election night. Tasks they helped perform included: Registering new voters, initialing ballots, handing out numbers, putting the absentee ballots into the counter, working the poll book, Shramek said.
Election officials at Paddock Lake Village Hall Tuesday night welcomed the extra hands.
"These students have been real helpful," said election worker Sally Crnich.
Said Lampe: "We also plan to have the students relate their experience about how the process works to their classmates.  There seems to be a lot of misinformation out there right now and we can't think of a better way to address that than to have actual peers of our students give a first hand account of what they saw."
Here is some of what two students that participated had to say about their experience.
From Nicole Noble:
Working at the election was both intense and rewarding. Having the opportunity, first hand, to see how our leaders are chosen was eye opening. There is a lot more that goes on that just filling out circles and slipping the ballot into the box. There's weeks of preparation that go into it, making sure the event runs smoothly. This opportunity isn't one that many can have, to see behind the scenes of the polls, and I'm honored to be chosen for it. Myself and other electors spent many hours in the chairs asking the same questions to every voter, and most of us did it with a smile. We made sure to keep the environment upbeat and happy, less focused on politics and more on the fun of the day. I loved meeting new people and seeing the interactions between the community members. I also loved meeting all of the experienced poll workers who were probably the nicest ladies I've ever met. It truly was a once in a lifetime experience that I thankful for being apart of. Learning only truly happens outside of the classroom."
From Julie Katzer:
I would like to make the statement that this was an incredible opportunity and experience. I learned so much about the voting process, and I have a better understanding of how it works, and I will use that knowledge when I am old enough to vote. I was able to initial ballots and collect voting numbers, which was an eye-opening opportunity. I also met two INCREDIBLE people, Tom and Karen, and I thoroughly enjoyed working with them. I will never forget this experience and the people I met, and I am so thankful I was offered this amazing opportunity."
All in all, Paddock Lake officials considered the program a success.
"We will definitely do it again," Uhlenhake said.