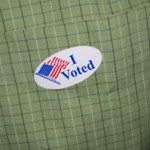 It's Election Day today with federal, state and county partisan offices on the ballot.
Of special note locally are:
The 61st Assembly District race, which pits current state Rep. Samantha Kerkman (R-Salem) and Amee Janus (D-Trevor) against each other. Most of Western Kenosha County (except for Wheatland) is in the 61st.
All of the partisan county offices are uncontested.
Polls are open from 7 a.m. to 8 p.m. Salem will be using both the Town Hall and Wilmot Fire Station polling places. Twin Lakes voting will be at Lakewood School. All other polling places are in their typical locations. 
A complete list of polling places is available here.
Note: westofthei.com will be providing results of the races above as well as how Western Kenosha County voted in the presidential and First Congressional District election as soon as they are available tonight. Check back! — DH