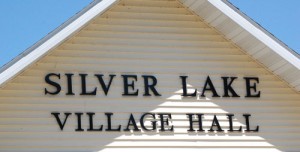 The Silver Lake Village Board on Wednesday acted on several steps designed to smooth the anticipated merger with Salem in becoming the new village of Salem Lakes.
The board unanimously created a fire and rescue department, adopted a new ward plan, set compensation for elected officials and created a police and fire commission.
But the action generating the most discussion — and some apprehension — was creation of a public safety department.
Salem currently has such a department. Village/town administrator Patrick Casey explained that public safety officers — almost all part time — in the new village will be used to deal with code and zoning enforcement matters and water patrol during the summer. He characterized these tasks as those that it was not necessary to involve sheriff's deputies.
"There's a lot of code enforcement," Casey said. "I don't think you want the sheriff's department to handle the cat calls or the my neighbors sump pump is running into my yard calls."
But there was some discomfort with the scope of powers given to the public safety officers in the ordinance forming the department. Trustee Bob Raymond said it seemed like the village would have a second police force in the public safety officers, who would have arrest powers and wear a service firearm while on duty. The new village will contract with the Kenosha County Sheriff's Department for police protection, as Silver Lake has since 2015. Before that, Silver Lake maintained its own police department.
"Public safety officers. That's too close to police officer," Raymond said. He pointed out that community service officers in Lake Forest perform duties similar to what Casey outlined for public safety, but they do not carry firearms.
Former village President Jeff Albrecht also addressed the topic during citizens comments, saying there were a lot of questions about what the department would do if created.
"What do you want them to do?" Albrecht asked. "What do you not want them to do? Is there a throttle; is there a governor?"
Casey did say that Salem public safety officers no longer do traffic enforcement and there are no plans to start again. A Salem public safety officer died in a traffic crash this summer while on duty. Salem Twon Board members were at that time already questioning an increase in traffic enforcement by public safety officers last year.
Village President Bruce Nopenz also sought to relieve concerns that public safety would be a de facto police force.
"I don't see public safety morphing into a police department," Nopenz said. "We knew what that police department did to Silver Lake, we know the cost and it was prohibitive."
Eventually, Trustee Patrick Dunn, a retired police officer, moved to modify the ordinance creating the department to remove language concerning warrant enforcement. The ordinance then passed unanimously with all members present.
Casey said there will be other similar actions coming before the Silver Lake Village Board in the run up to the anticipated Feb. 14, 2017 joining of the two municipalities into one. Silver Lake needs to take the actions because technically the town of Salem is in effect being absorbed by the village of Silver Lake.