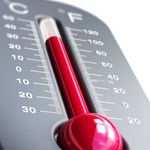 Sunday was a nice way to start the week, wasn't it? High temperature of 70 degrees. Sunny.
Well forget that. The rest of this week there will be highs in the 50s along with a rainy Wednesday, says the latest local National Weather Service forecast.
The one exception will be Friday where the forecast currently calls for the mercury to just hit 60.
A chance of rain will start Tuesday night and increase in likeliness early Wednesday morning and become a virtual certainty Wednesday during the day. There's a 90 percent chance of rain Wednesday and a 60 percent chance of rain Wednesday night. There is a 20-30 percent chance of rain Friday through Sunday.