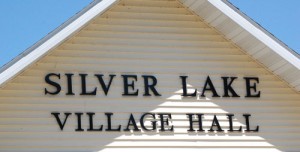 Starting next month, Silver Lake residents will have a new company collecting their garbage and recycling.
The Silver Lake Village Board approved a contract with John's Disposal of Whitewater at Wednesday's regular board meeting.
John's first collection date will be Nov. 7.
The change will necessitate a swap out of garbage totes. John's is expected to start delivering new totes on Oct. 27. The current contractor, Advanced Disposal, will collect their totes as they make their last pick-up on Oct. 31.
As part of the change, the board also approved instituting a separate garbage collection fee of $167.64 per property, per year. The fee will appear on the property tax bill.
In the past, village residents did not pay a separate garbage fee; instead the money to pay for garbage collection came from property taxes paid.
Village President Bruce Nopenz said Wednesday the new arrangement has the advantage of having everyone paying the same for the same service of garbage collection.
"I would hope everyone in the village will be happy with the service that will be provided and at a cost shared equally by everyone," Nopenz said.
Recycling pick-up also will now be available every week. Large items, such as furniture, can be picked up on the first collection day of the month.
Extra garbage bins can be obtained for $5 per month and extra recycling bins for $3.50 per month.
Information about John's Disposal and how they will operate will be attached to the new totes, Nopenz said.
John's is also providing portable toilets at village parks and the village boat launch, as part of the contract.
The move to John's and a separate fee was prompted by the impending merger with Salem, Nopenz said. Salem residents already pay a separate fee and use John's.
All actions related to the change were approved by the board unanimously with all members present.