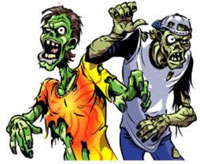 Three Harbors Council along with Cub Scouts and Boy Scouts in the area are hosting a Haunted Hayride on Friday, Oct. 21 and Saturday, Oct. 22 as well as Friday, Oct. 28  and Saturday Oct. 29. at Camp Oh-Da-Ko-Ta.
Take a Haunted Hayride through the spooky woods of Camp Oh-Da-Ko-Ta.
While you wait in line for your wagon to arrive, there are line walkers in costume to give you a fright. Guests are entertained by a PG or G rated Halloween movie on the big screen. Once your wagon arrives, you are transported on a course through the haunted woods. You never know who or what will pop out at you with a chain saw, or a loud bang. The element of surprise will surely keep you on the edge of the hay bale. Mid-ride, you will depart the wagon to enjoy frightfully delicious concessions, ghost stories around the campfire, roasting marshmallows, some Halloween tunes, and Trading Post. Then you will embark on the rest of your journey through Sleepy Hollow and passed the Bone Chilling Chapel and beyond. The evening would not be complete without a knee knocking walk through the Haunted Fort DaKoTa where there is a frightful surprise at every turn.
Camp Oh-Da-Ko-Ta is located at 3363 Dyer lake Road. (Highway P) just 1.25  miles north of Highway 50. Cost is $7 per person.
More Info: 262-632-1655, x1111