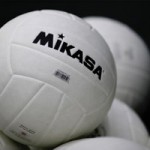 Note: This report was submitted by a representative of Central High School volleyball. Do you have sports team results you would like posted at westofthei.com? Send them to darren@westofthei.com. — DH
The Central High School girls varsity volleyball team defeated Elkhorn and Wilmot but fell to Burlington at the Southern Lakes Conference tournament Saturday.
Scores were:
Vs Elkhorn 25-13, 25-18.
Vs Wilmot 25-7, 25-15, 25-18.
Vs Burlington 26-28, 22-25, 28-30.
Comments from Coach Charlie Berg: "We were outplayed by Burlington defensively today. Their service game took us out of system quite a bit and we couldn't recover. I give Burlington a lot of credit for their game plan. We learned a lot about ourselves today to be mentally tougher and be better teammates. We hope to see them again down the stretch."
Stat leaders:
Kaeley Mueller 10 aces 28 kills 28 digs.
Laura Shoopman 40 kills.
Abi Marquenski 10 blocks.
Kennedy Muff 11 blocks 46 assists.
Sarah Blair 48 digs.
Competing in the tournament were teams from Wilmot Union, Badger H S , Delavan-Darien, Elkhorn Area, Union Grove, Waterford and Central.