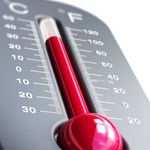 Lows will be cold tonight, even if not cold enough to trigger a formal freeze or frost warning
The latest, local National Weather Service forecast is calling for a low of 36 Wednesday and 37 Thursday. The forecast stops short of a warning or advisory, but does say there may be some patchy frost Thursday morning.
Thursday will be a bit chillier than late with a high of 55, but a warm-up starts Friday with high temperatures projected to be back in the 70s through Tuesday.