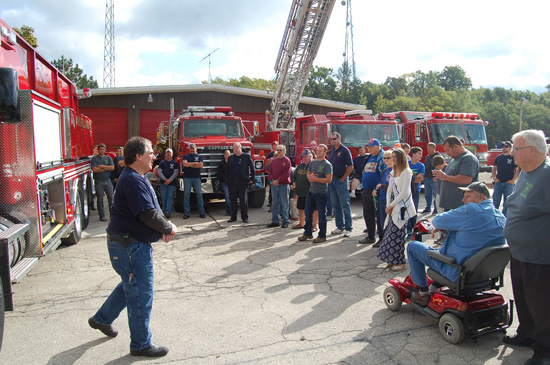 The Town of Wheatland Fire Department's new pumper/tanker truck was given a blessing and officially put in to service Sunday.
The ceremonial blessing took place at the department's annual pancake breakfast fundraiser.
Chief Lou Denko gave the audience a rundown on some facts about the new apparatus.
The new pumper will replace a 30-plus year old truck. The new truck has a larger 4,000 gallon capacity and importantly can pump water itself. Having that capacity alone could save the department three or four firefighters, especially on weekdays when it is more difficult to get enough volunteers to respond, Denko said. It carries 1,000 feet of hose on board.
"Now every apparatus we have has a pump and is capable of flowing water," Denko said. "It gives us a lot of versatility."
Here is Pastor Jeff Halldorson, who also is a member of the department, giving the blessing:

Here is video of Chief Denko talking about the truck:

Here are some more photos from the event: