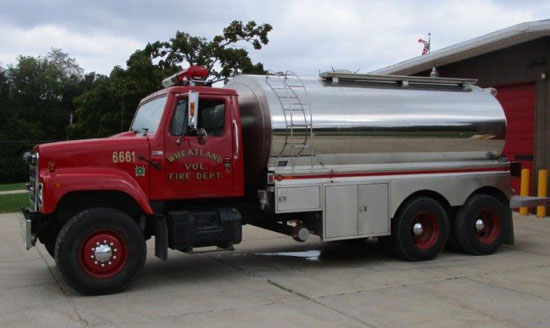 Note: The Town of Wheatland is advertising this truck with westofthei.com. This is a paid announcement. — DH
The Town of Wheatland Volunteer Fire Dept. 1987 International Tanker Truck will be sold to the highest bidder. Sealed bid deadline 5 p.m., October 7, 2016
Truck will be available November 1, 2016.
1987 truck has 12,000 miles and has been well-maintained. It is being sold as is. The truck is being offered with two options:
Truck and stainless steel tank — minimum bid of $20,000.
Truck with stainless steel tank removed by the fire department. — minimum bid of $16,000.
Return sealed bids to the Wheatland Town Office, 34315 Geneva Rd., P.O. Box 797, New Munster, WI 53152 by 5 p.m., Friday, October 7, 2016. Bids
will be considered at a regular meeting of the Wheatland Town Board at 6 p.m., October 10, 2016 at the Wheatland Town Hall. Insurance certificate must be provided at the time truck is released to the buyer. Emergency lighting and warning system will be included on the truck only if sold to a municipal fire department.
Questions regarding the truck and sale should be directed to Fire Chief Louis Denko at louisdenko@gmail.com or to Town Clerk Sheila Siegler, phone 262.537.4340 or smsiegler@townwheatland.com.
Dated: 8/22/2016
Sheila M. Siegler, Wheatland Town Clerk