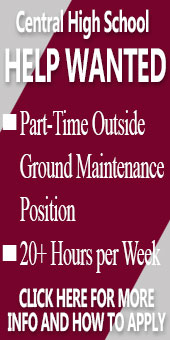 Note: Central High School is advertising this position with westofthei.com. This is a paid announcement. — DH
Central High School is seeking applicants for an Outside Ground Maintenance, Temporary Part Time Position.
Job is responsible for the landscaping and grounds of Westosha Central. Job duties include performing grounds keeping, mowing, shrub trimming, weed whacking, raking, and all other duties as assigned. The position is also responsible for light custodial work within the stadium. Applicants must be able to perform physical activities, including push mowing and using a weed whacker. Current position is from Mid-March until Mid-June and from Mid-August until Mid-November. 20+ hours per week depending on the weather. Starting pay is $12 per hour.
Please email Tim Merrill, Building and Grounds Supervisor at timm@westosha.k12.wi.us if interested.