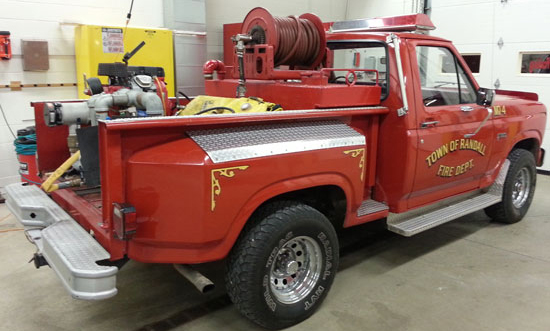 Note: Town of Randall is advertising the sale of this item with westofthei.com. This is a paid announcement. — DH
The Town of Randall is accepting sealed bids for the sale of a fire department 1985 Ford F-150 4×4 Fire Apparatus grass fire truck . Steel water tank and pump skid mounted in a six foot, step side Ford F-150 four wheel drive pick-up truck. Town of Randall is the original owner. Truck has 17,400 miles, 351 V8 gas motor, automatic transmission and manual locking hubs. Bids will be accepted for the complete truck, truck chassis only or pump skid/tank only. Please be clear as to what you are bidding on. Specifications are available at the Randall Town Hall.
Bids must be received no later than 5:00 PM Wednesday, October 12, 2016. Bids will be opened at the regular Town Board meeting Thursday, October 13, 2016 at 7:00 PM. The Town reserves the right to reject any or all bids for any reason.  Emergency lighting, warning siren and department identification will be removed before delivery.
Sold "AS IS. WHERE IS"
Contact the Town Hall to schedule an inspection (262)-877-2165 Mon-Thurs 8:00 AM – 5:00 PM
Mailing address: Town of Randall, 34530 Bassett Road, Burlington, WI 53105