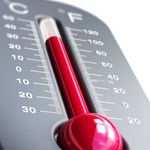 It's as if Mother Nature suddenly became aware of the calendar and thought, "wow it's fall, time to cool things off."
High temerpatures in the National Weather Service forecast for this week are not expected to get out of the 60s all week. Forecast highs for this week are: Monday, 66; Tuesday, 61; Wednesday, 60; Thursday, 68; Friday, 69; and Saturday, 69.
The greatest chance of rain is Tuesday night, when there's a 50 percent ance.