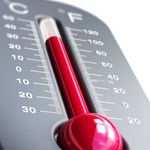 High temperatures in the 80s are returning this week to the local National Weather Service forecast.
Highs of 80 or aboce are expcted Monday, Wednesday and Thursday. Tuesday is forecast for 79, so who knows, it might make it to 80 too.
The most significant chance of rain comes Monday night, with a 50 percent chancce of a thunderstorm.