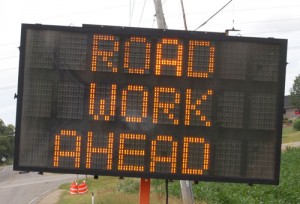 If you travel north regularly on I-94 you might be interested in this announcement from WisDOT about work at Highway 20 in Racine County:
On late Tuesday evening, September 13, the Wisconsin Department of Transportation (WisDOT) is scheduled to begin work on southbound I-94 at WIS 20, in Racine County.
This work will replace 700 feet of concrete pavement joints installed during the recent reconstruction of the WIS 20 Interchange. The contractor agreed to cover the cost of repair and the department will accept the repairs after work is complete. During peak travel times, three lanes of traffic will be maintained in the southbound direction by use of a slight traffic shift. During evening and off-peak hours, single lane closures may be in effect. In addition, the I-94 East (southbound) entrance ramp from WIS 20 will be closed during the repair operations. To access I-94 East (southbound), traffic will be directed south using the West Frontage Road to reconnect to the freeway at the WIS 11 Interchange. Safety is of the utmost priority. The safest way to conduct this operation is to fully close the ramp to traffic. The work is expected to wrap up in late-September, weather dependent.