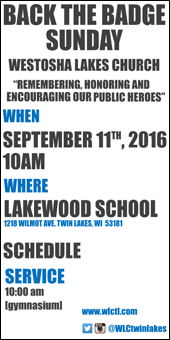 Note: Westosha Lakes Church has advertised this event with westofthei.com. This is a paid announcement. — DH
Westosha Lakes Church will host a Back the Badge Sunday on Sept. 11.
The even is to remember, honor and encourage public heroes.
The event will be held at Lakewood School, 1218 Wilmot Ave., Twin Lakes.
The event will begin with a service at 10 a.m. in the gymnasium.
That will be followed by a free brunch at 11 a.m. in the school cafeteria.
From 11 a.m. to 1 p.m., there also will be family activities such as a bounce house, face painting and more fun. Those activities will take place outside.