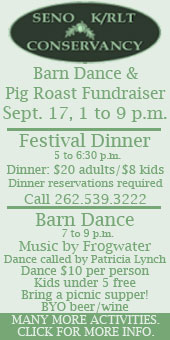 Note: Seno K/RLT Conservancy is a westofthei.com sponsor. This is a paid announcement. — DH
Seno K/RLT Conservancy will present the 2016 Woodland Festival on Sept. 17 at the conservancy's grounds at 3606 Dyer Lake Road (Highway P).
The event, which includes a number of different activities, will take place from 1 to 9 p.m.
Woodland Festival Fun will include tours of Seno, games for all ages, treasure hunt, demonstrations, vendors and displays and a silent auction from 1 to 4 p.m. During that time, master wood turner Harold Solberg and Todd Eckert will be giving demonstrations. Medallions for kids are free.
The festival dinner and dance will take place from 5 to 6:30 p.m. Cost is $20/person for adults and $8 for kids 6 to 12. Kids 5 and under are free. The pig roast dinner also includes beverages, side and sweet. BYO beer/wine. Reservations are required for the dinner by Sept. 10. Call 262-539-3222 or email nan@senokrlt.org to reserve your spot.
The festival barn dance will take place from 7 to 9 p.m. Music by Frogwater and dance called by Patricia Lynch. Cost is $10 per person, kids under 5 are free. Bring a picnic super! BYO beer/wine.
This is a fundraiser for Seno K/RLT Conservancy, which is dedicated to forestry, natural resources education, conservation and land preservation.