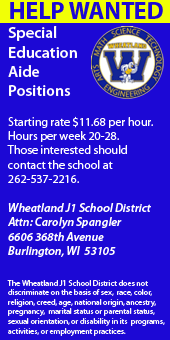 Note: Wheatland Center School is advertising this position with westofthei.com. — DH
Wheatland Center School has open positions for Special Education Program Aides.
The starting rate is $11.68 per hour. Hours per week are 20-28.
Those interested should contact the school at 262-537-2216.
The Wheatland J1 School District does not discriminate on the basis of sex, race, color, religion, creed, age, national origin, ancestry, pregnancy, marital status or parental status, sexual orientation, or disability in its programs, activities, or employment practices.