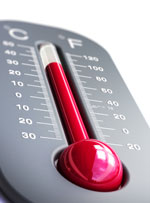 Temperatures are expected to cool off this week, says the latest local National Weather Service Forecast.
After a couple of days with high temperatures in the low 80s, highs should be in the low to mid 70s: 75 on Wednesday, 73 on Thursday, 74 on Friday.
There's also a 0-30 percent chance of a thunderstorm Monday night through Tuesday night.