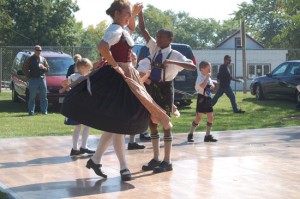 The 6th Annual Old Settlers Oktoberfest at Old Settlers Park, 24100 75th St., will be held on Saturday, Sept. 10 from Noon to 8 p.m.
This year's Oktoberfest will feature a fun run, authentic German food and beverages, dancing, Edelweiss kids dance, classic car show, kid games, the Dachshund Dash, raffle prizes and a firework finale.
Admission into Oktoberfest, kid's games, Dachshund Dash and fireworks are free to visitors.
"This is a wonderful event for all of Kenosha County," County Executive Jim Kreuser said. "It's an opportunity to celebrate fall in the beautiful setting of Old Settlers Park."
The County Executive 5k+ is taking place the morning of Sept. 10 , starting and ending at Old Settlers Park. Registration begins at 9 a.m. and the race will start at 10 a.m. The morning run/walk will be family friendly and participants are encouraged to dress in Oktoberfest theme. Visit www.XCThrillogy.com to register and review the entry fees.
The Dachshund Dash is for Dachshunds and Dachshund mixes trying to be the fastest Top Dog or a Hot Dog. Free registration for the races begins at noon and the races will commence at 1 p.m. Immediately following the Dachshund Dash, there will be an Open Class/All Breed Dog Dash. All dogs are welcome to participate in the open class event.
Event Schedule:
10 a.m. – County Executive 5k+ Fun Run
Noon – 8 p.m. – German food and beer for purchase
Noon to 7 p.m. – Brew Haus Polka Kings
Noon – 4 p.m. – Classic Car Show
Noon – 6 p.m. – Free children's games, hair braiding, and face painting
1 p.m. – Dachshund Dash & All Breed Dog Dash
2 p.m., 3 p.m., 5 p.m., and 6 p.m. – German Dancers, the D'Oberlanders Dance Crew
4 p.m. – The Edelweiss Kids Dance
7 p.m. – Raffle Drawing
8 p.m. – Fireworks over Paddock Lake
Old Settlers Oktoberfest is sponsored by Old Settlers Oktoberfest Inc., County Executive Jim Kreuser and the Kenosha County Division of Parks. Proceeds from this event support the construction of a bandshell within Old Settler's Park.