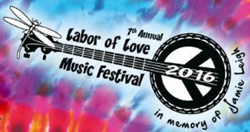 The 7th Annual Labor of Love Day Music Festival in memory of Jamie Leigh Wilson will take place Sunday, Sept. 4 from noon to 7 p.m.,  at New Munster Park, 34315 Geneva Road, New Munster.
Admission is free.
This year's festival will include live music, food and drinks, magic shows, face painting and more.  All ages are welcome, but pets must stay home.
Music acts for the day will be:
12:30-1:30 p.m.,  Sparrow Tree.
1:45-3 p.m., Whiskey Shivers.
3:15-4:45 p.m., Horseshoes & Hand Grenades.
5-6:30 p.m., Pert Near Sandstone.
Proceeds of the event to benefit local communities with suicide prevention, awareness and education programs.