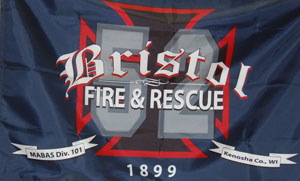 For the first time since 2010 the Bristol Village Board increased what it will charge patients for delivering emergency medical services.
The new rates were presented at Monday's Village Board meeting by village administrator Randy Kerkman and Bristol Fire & Rescue Chief John Niederer. The Village Board approved the change unanimously.
Kerkman said the rates have not been changed since 2010, even though the department made a substantial upgrade in service provided when it became a paramedic department in 2012.
Kerkman praised Niederer's work on comparing Bristol's charges to other departments.
"I think he did a really great job of reviewing both internally within the county and externally within the state," Kerkman said.
The comparison showed Bristol's charges were among the lowest in the state.
"We're significantly lower cost than others in Wisconsin," said village President Mike Farrell.
Niederer estimates that the increase in fees, which range from $150-$250 per services, will generate about $54,000 in increased fees charged and about $26,000 in increased revenue to the village, based on how many times the various services are charged in a typical year.
The disparity between the amount of additional fees charged and the actual increase in revenue to the village is because about 30 percent of the department's calls are billed to Medicaid or Medicare, which reimburses at a lower rate, Kerkman said.
"The federal government is the worst payer of all," Kerkman said referring to Medicare and Medicaid. "They pay the least."
The new fee schedule, like the old, has different levels for residents and non residents, with non residents charged more.
Kerkman said the intention is to review the fees every year at budget time to make sure they are still in order. Trustee Ruth Atwood moved to make that review part of the resolution approving the new fees.
The charges will go into effect Oct. 1.
Here is a table comparing the current charges of several Wisconsin departments and a table projecting the revenue increase with the new rates.